Queue Workflow Steps
You don't have to know how to code to create your Slack workflow steps. Workflows allow you to automate tasks or processes directly in Slack or between apps. Is your initial Queue workflow set up? Great! Now, it's time to personalize your steps.
Here is a list of things that you'll learn:
what workflow steps in Slack are,
how to build a workflow in Slack,
how to add steps to a workflow in Slack.
What are workflow steps?
Steps in Slack are nothing but a series of actions taken to complete the workflow. You can add and customize those steps as you like. Today, we shall explain how to add steps from Queue to your workspace in Slack.
Creating workflow
You can create custom Queue workflow steps in Slack. Before you start, make sure that you've installed Queue to your workspace. If not, add the Queue app to your workspace now. Also, check if you have access to Workflow Builder in your Slack account. In case you don't see this option, ask for access or update the app to the most recent version.
Once the Queue is installed to your workspace, you can build your workflow.
In order to do this, you have to go to Workflow Builder. Now, let's break down how to build your workflow in 4 easy steps:
Click on the name of your workspace in Slack. Find Tools at the end of the list of options in the menu. Select Workflow Builder.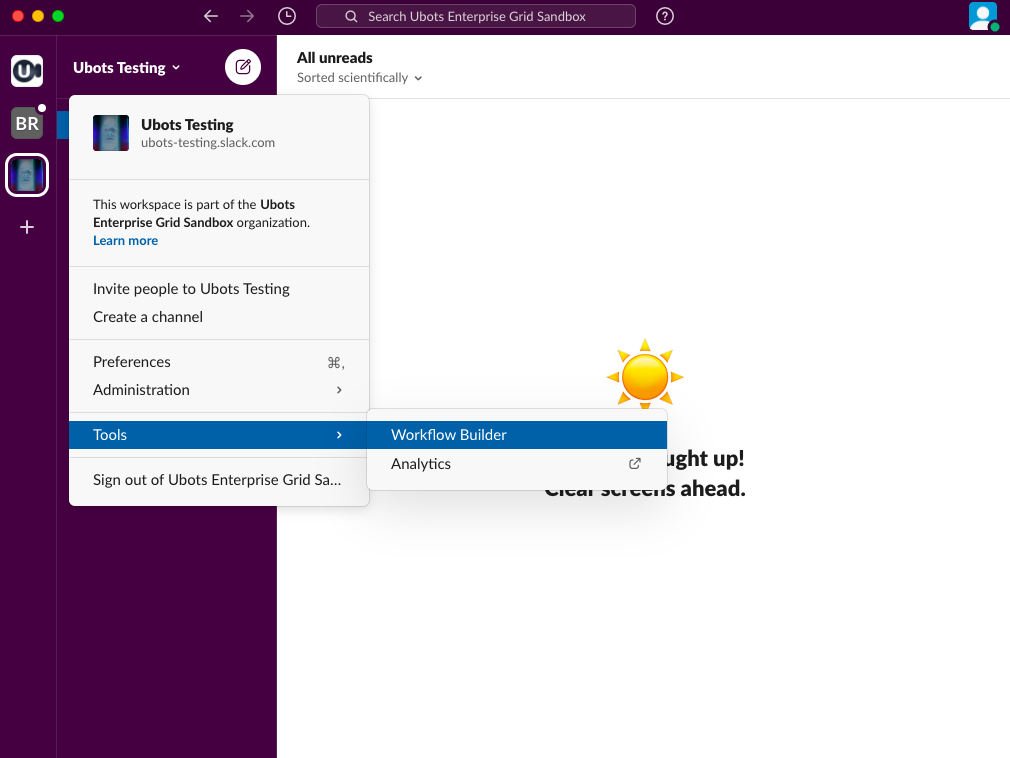 In the new window, click on the Create button.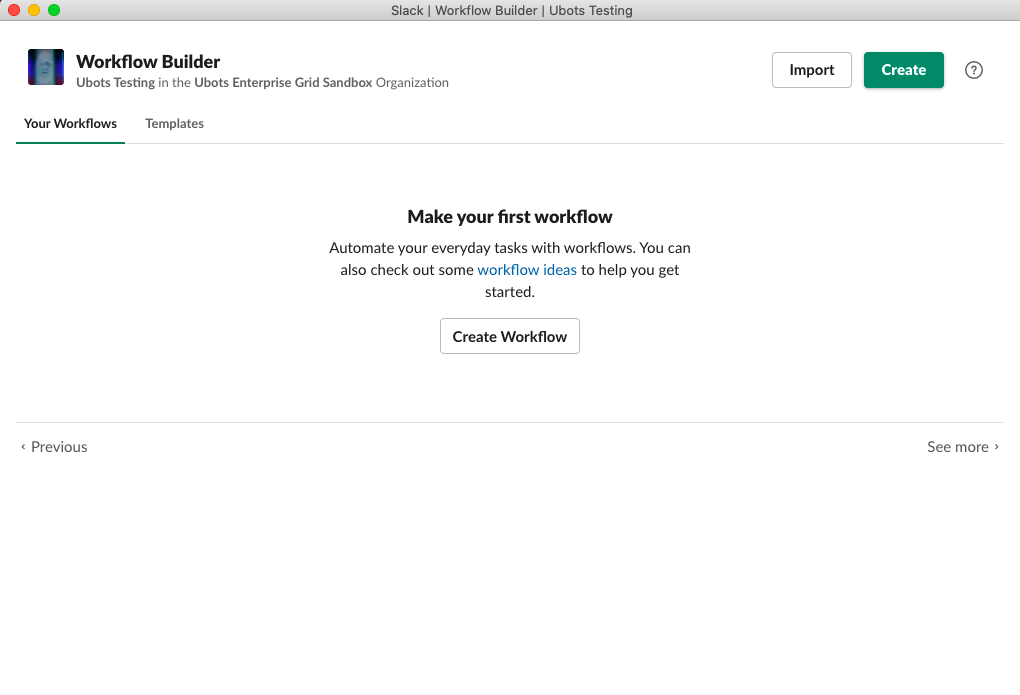 Give your workflow a name and confirm it by clicking the Next button.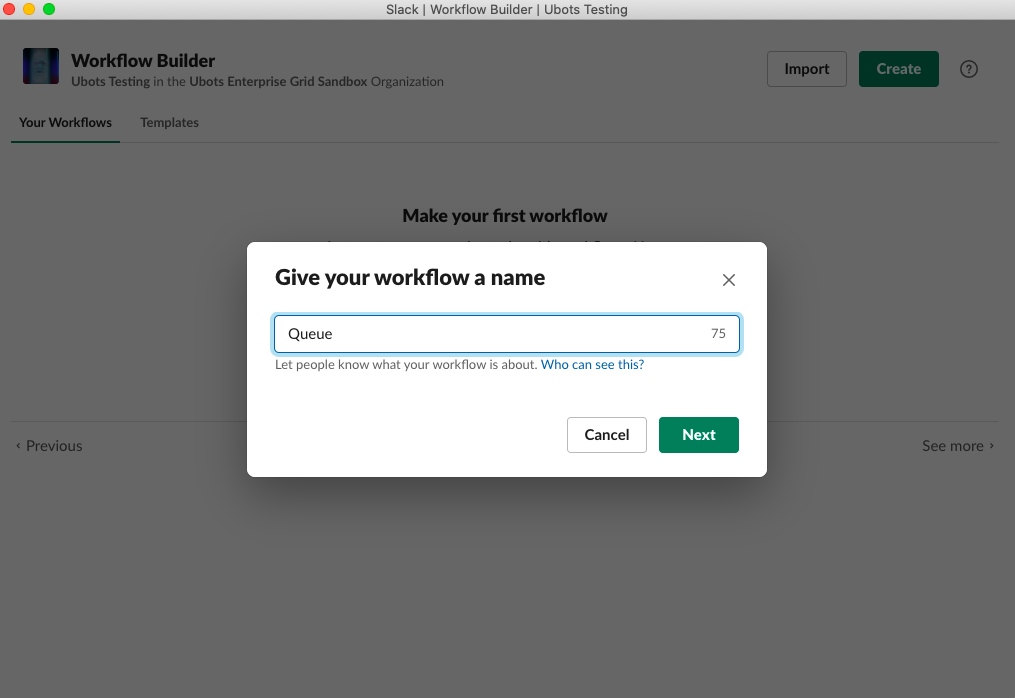 Choose a way to start your workflow. Find the most interesting option and click the Select button.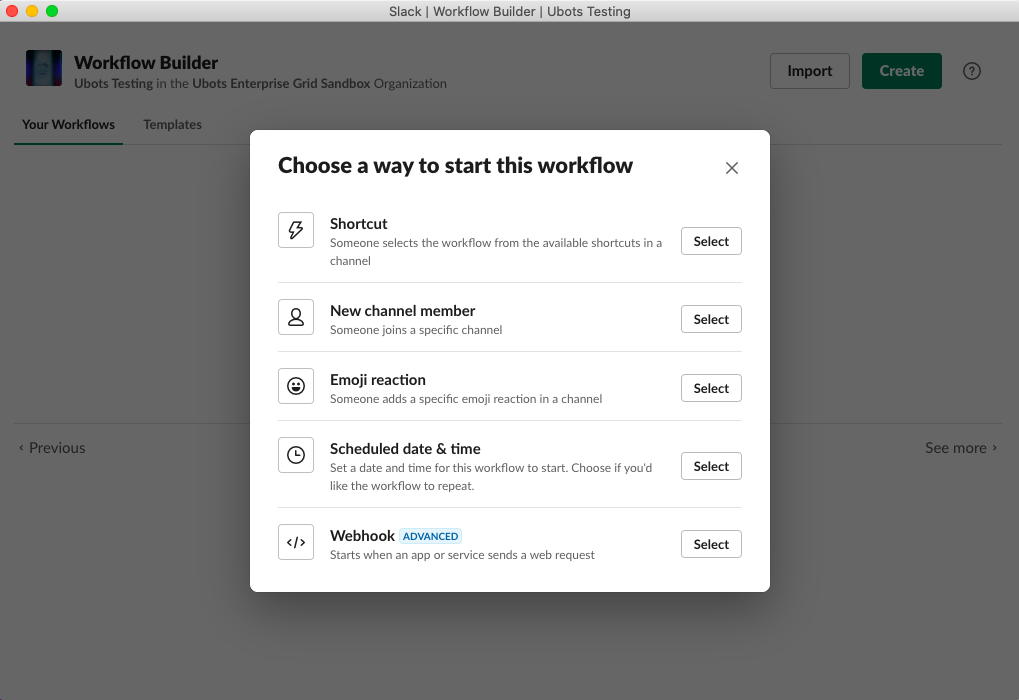 Tip: You can use Scheduled date & time option to automatically rotate your Queue.
In the next window, you'll be asked to choose the channel and give it a short name. Once you've provided all of the necessary information, click on the Next button.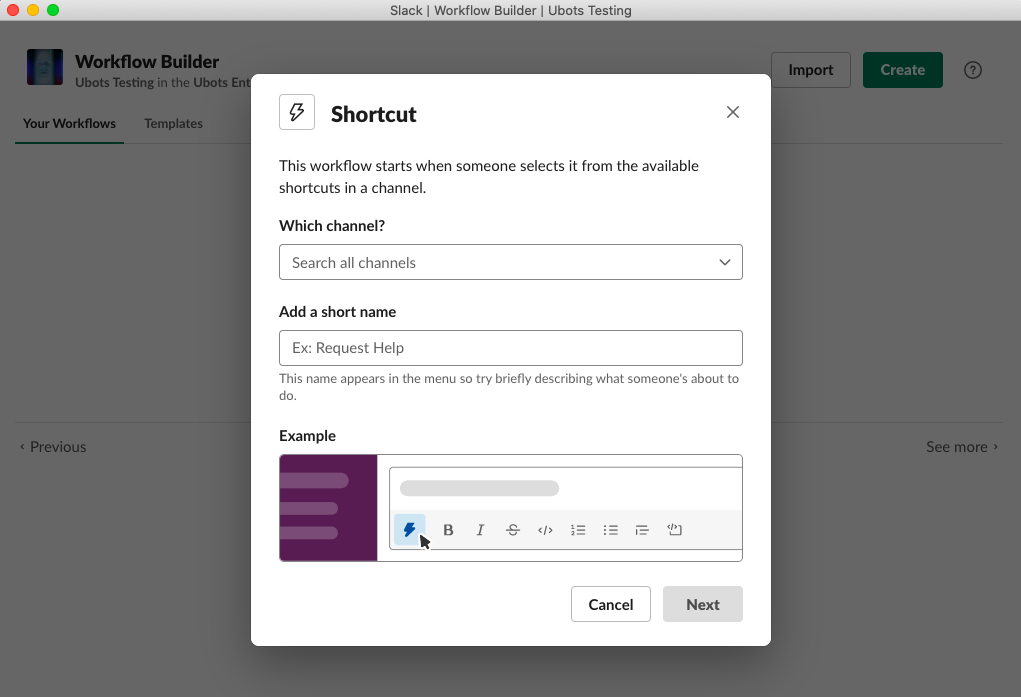 You've created your workflow from scratch in just a few minutes! Now it's time to add Queue workflow steps.
Adding Queue workflow steps
Go to your already created workflow and click on the green Add Step button.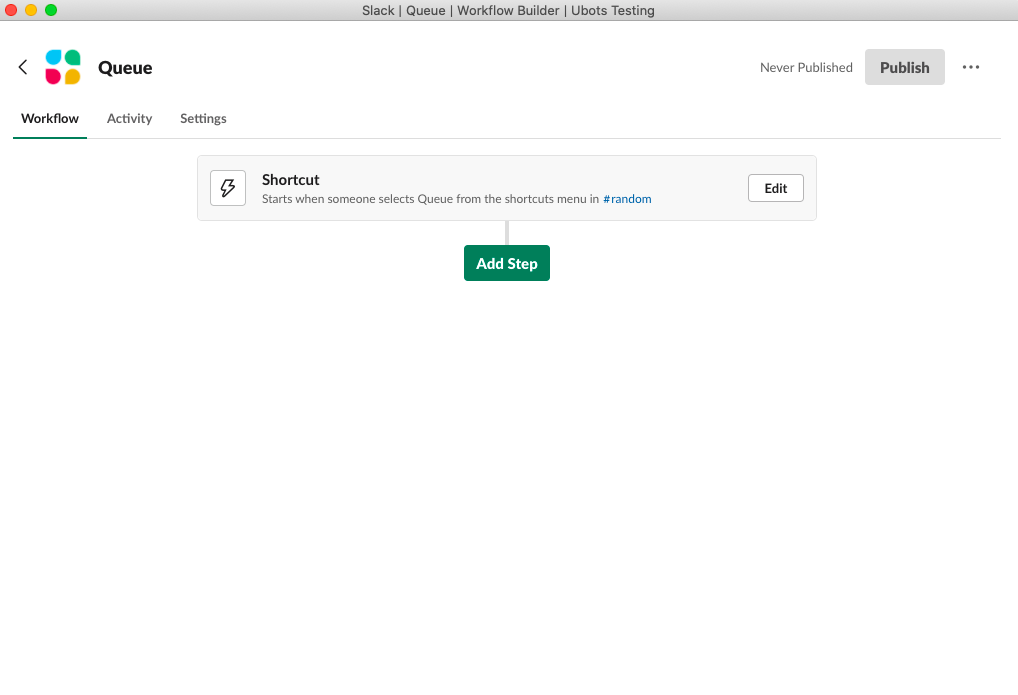 Choose the Add to Queue or Kick from Queue option and click on the Add button on the right side of the window.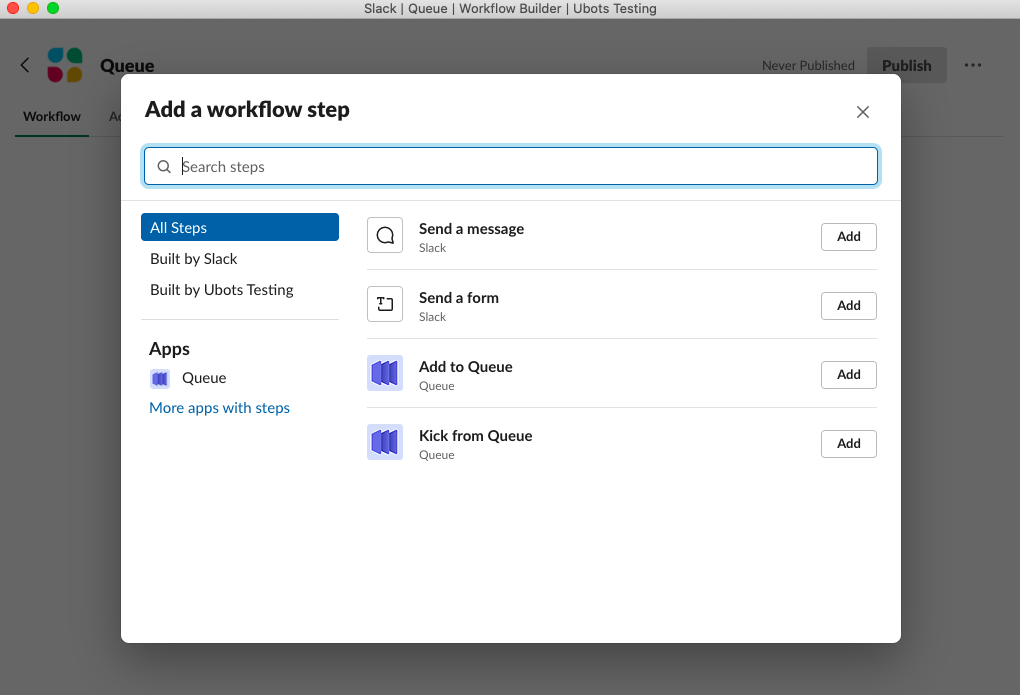 Modify your preferences by selecting channel or user for this shortcut. Once you have selected all options, click the Save button.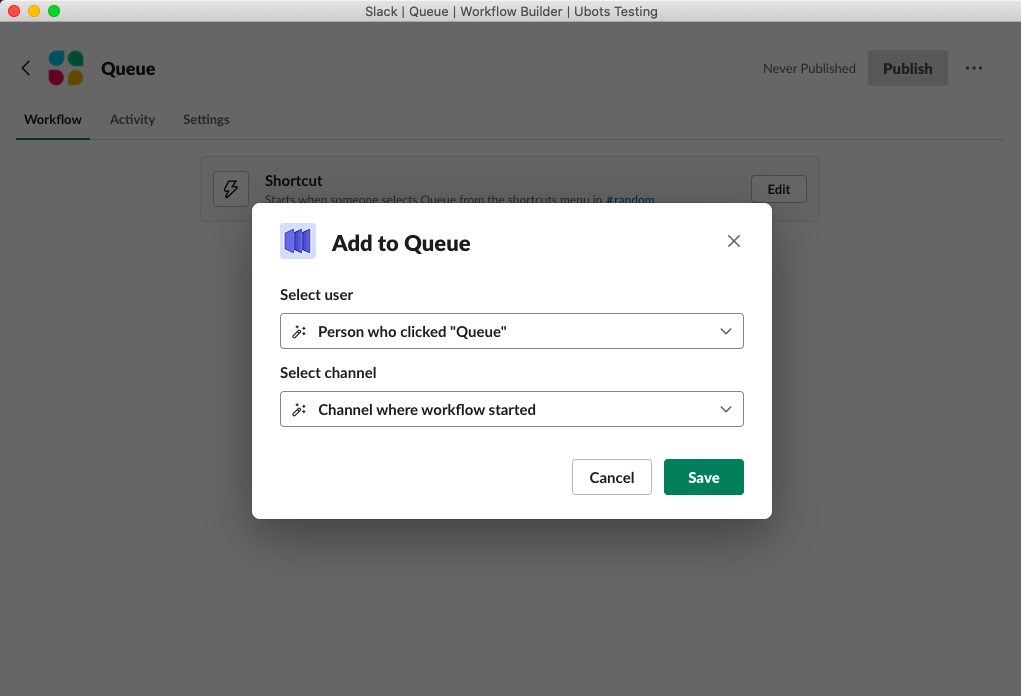 To save your workflow step, click the Publish button at the top right corner of the screen.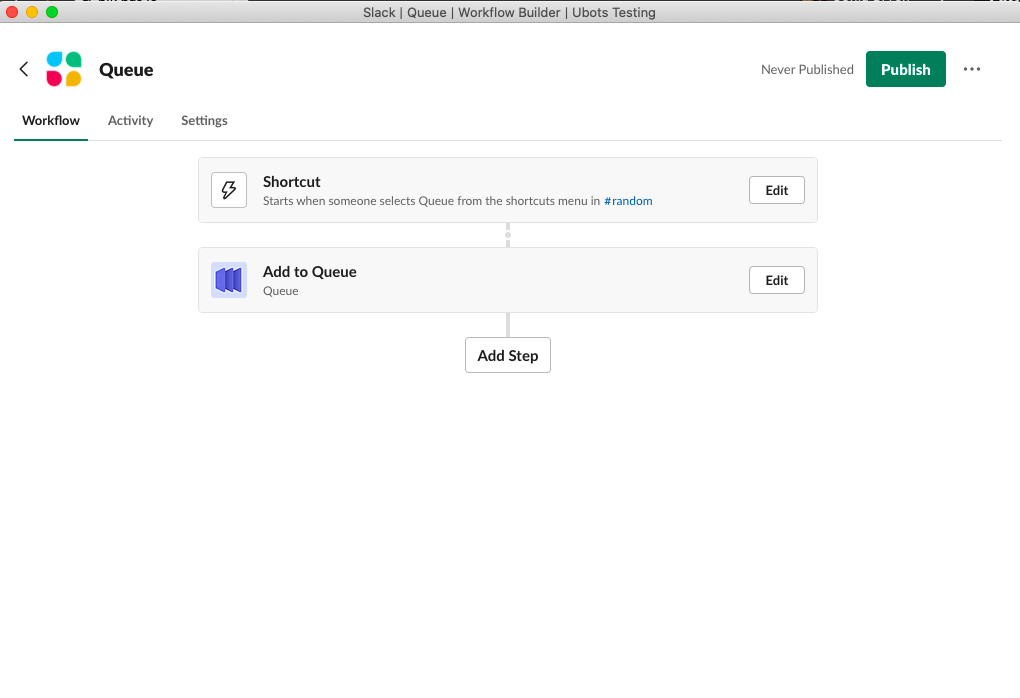 Now you can go to the channel where you've created your shortcut and select it from the list.